8 Fun Yet Educational Activities to Help Kids Understand the Importance of Dental Health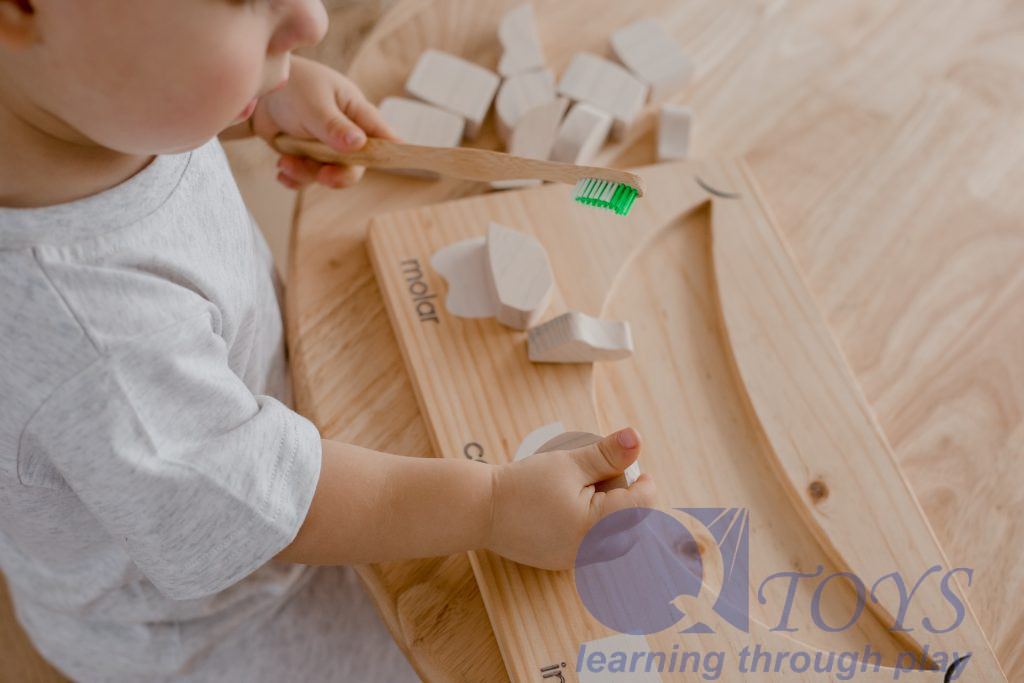 Teaching kids about dental health is a struggle. Most parents can relate to how difficult it is to teach the little ones the importance of taking care of their teeth. As parents, however, you
should not just give up. Make it easy and fun with the activities we'll talk about below.
8 Ways To Teach About Dental Health in a Fun But Educational Way
Encouraging educational play is one of the most effective strategies for teaching children the importance of dental health. You can do so in many ways, including through the things
mentioned below.
1. Wooden Puzzle
Puzzles are amongst the most educational toys you can give kids. They can teach them many things and improve various skills, including spatial awareness, shape recognition, concentration, hand-eye coordination, fine motor ability, and problem-solving.
You can choose specific puzzles designed to educate about dental health. Find a puzzle about teeth, making it easy to differentiate molar, canine, and incisor. It even comes with a woodentoothbrush, which is a great way of teaching kids how to do it right. Kids can remove some parts of the puzzle, which can be indicative of a missing tooth because of dental caries.
2. Role-Playing
Process drama and role-playing are effective methods for viewing problems from the
perspectives of children. This way, you can know their opinions. For instance, this is a great way to learn the reasons why they have dental phobia and anxiety. At the same time, it is also a good method for teaching what dental treatments are like.
During role-play, the parent will act as the dentist and the kid as the patient. Start by simulating what an actual visit looks like. Make the child as comfortable as possible. Explain the dental tools that will be used and the treatment that will take place. If the kid is anxious, ask why such is the case, which will help you understand how to eliminate fear.
3. DIY Toothpaste
As soon as the first tooth erupts, parents need to be part of their kid's overall dental health.
From caring for baby teeth to dealing with mouth ulcers, find different ways you can keep your kid's mouth healthy over at Dentaly.
An important part of kids' dental health is the right toothpaste. Not just any toothpaste is
enough. If the kids are already old enough to make DIY crafts, then you might want to consider making a kid's toothpaste. It also means that you have full control over the ingredients to use. As much as possible, choose natural ingredients to ensure safety for kids.
One of the best ways to make a DIY toothpaste is to use 2/3 cup baking soda, one teaspoon
salt, 15 to 20 drops of essential oil, and filtered water. Mix the first three ingredients and add water until you reach the consistency that you want.
4. Clay Mouth Model
Kids can start playing with clay when they reach two years old. The sky is the limit when it
comes to how they can play with clay. One of the things to do is to create a clay model mouth. Use this to teach them about their teeth. It can also be made using mixed colours to indicate tooth decay. While you can buy clay, it is more fun if you make one as a DIY activity with your kid. In a pot, mix water, corn starch, and baking soda. Cook over medium heat. Keep on stirring until you reach the same consistency as mashed potato. Let it cool and divide it into four pieces. Add colouring and mould into teeth.
5. Lego Flossing
Flossing children's teeth is a crucial part of their oral care routine. Brushing alone may not be enough to prevent cavities. It can also be an effective way to polish tooth surfaces and prevent tooth decay. Start flossing as soon as they have two teeth touching. The sooner you start, the easier it is for kids to acquire such a habit.
Teach flossing in a fun way by using Lego. The bricks will act as large models of children's teeth. Use yarn to act as a floss. Insert between the bricks and move up and down, imitating the action of removing stuck debris.
6. Read a Book
Reading is one of the best educational activities for kids. Choose books that will teach the basics of dental health, including brushing and flossing. There are also books that talk about what a dental visit will look like, making kids familiar with the experience. It will minimize the chance that they will be scared.
Pick books with colourful characters to make them more engaging. Some will even have music, so you can have the full attention of your kid.
7. Watch Videos
Aside from reading books, watching videos is another effective way to teach dental health.
With their short attention span, the challenge is to find videos that will hook the kids and make sure that the content sticks to their minds. Look for videos featuring fun and playful characters. Lively music is also a must. Make the children dance through the tune of the video, and it is likelier that they will learn.
8. Glue, Draw, and Brush
Building strong teeth while developing motor skills is possible through this activity. It is also a great way to encourage creativity in children. This is a common activity amongst pre-schoolers, especially during the dental month. Start this activity with a piece of paper. Draw an alligator outline and let children colour it. The mouth must be wide open. Add fake teeth with erasable black spots, which will act as the cavity. Give them a toothbrush and let them erase the black spot. This will mimic toothbrushing, which is a good way to teach them how to do it right.
In Closing Good dental health is the priority of every parent. However, teaching such to children can be challenging. Most of the time, they won't be paying attention. They would rather play. So, the best thing to do is to teach them about dental health in a fun and engaging manner. This is possible by doing the activities mentioned above, including wooden puzzles, role-playing, clay mouth model, and Lego flossing.
Written By Chelsea Smith
Chelsea Smith is a content creator who writes about a variety of topics, especially around dental health. She has been promoting proper dental care through her work and urges everyone to visit their dentists regularly.