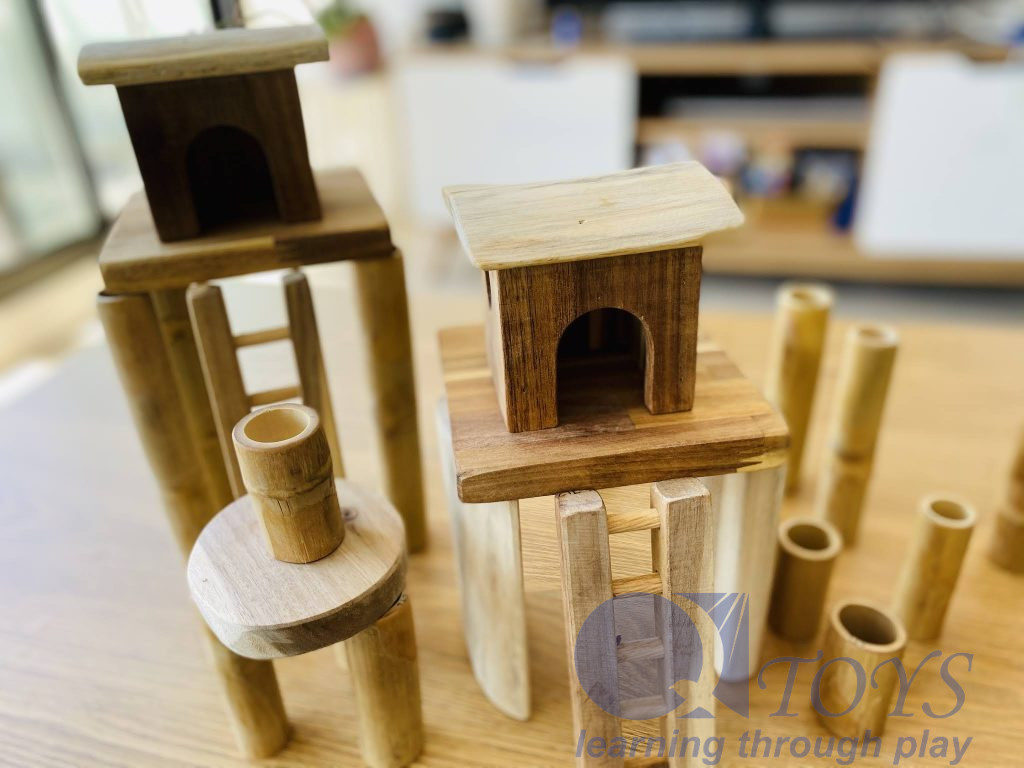 Bamboo Building Set with Houses
Nature/ Type:         Construction and Building Toy of Natural Materials
Rating:                   ⭐️⭐️⭐️⭐️
Recommended age: 3-year-old and above
Who would love this: Montessori-inspired parents who love toys with natural materials; kids who love building houses and structures
It's no secret that I love Qtoys – its unique and earthy design, using natural materials, in line with Montessori-inspired educative concepts. Bamboo Building Set With House by Qtoys is one of my other favourites. There are something special about toys made of natural materials: they are pleasing to the eyes, each set is slightly unique on its own, and crafted with so much love and care.
Why I love ❤️ this toy:
(1) Creative Design: It comes with 40 pieces of bamboo and acacia wood of all sorts of heights and shapes. Houses, ladders, stilts, walls. It encourages flexible play and story-telling.
(2) Beautiful Set: it looks pretty in any toy rooms and makes instagram-worthy pictures.
(3) The Materials: Safe and eco-friendly natural materials.
(4) Building Skills: to balance and build a structure that can withstand weight, that's our little engineers in the making!
 Love this!! Enjoy the video below and watch the building in action!
Written and Reviewed by 60 Second Toys Reviews
Nature/ Type:          Natural Wooden Gnome House
Rating:                     ⭐️ ⭐️ ⭐️ ⭐️ ⭐️
Recommended age:  3 year-old ++
Who would love this: Kids who love magical garden  & mystical figures
There is something about QToys and its wooden products that make me want to pause and just admire each piece carefully. This Gnome House is one of the many QToys that I can't stop gazing and smiling like a little kid.
Why I love ❤️ this toy:
(1) Fascinating Design – the multi-level structure, the colourful gnomes, the tiny wooden furniture, the pulley that can spin a rope up and down, a removable ladder, a swing, cottages. This is a toy with a complete setting for any whimsical and fancy stories to occur. My two kids were completely fascinated, and spent loads of time in front of this loveable house, creating their little fairy tales.
(2) The Materials – All QToys products are made of plantation timber, using non-toxic and child-safe materials. They look durable, natural, and absolutely adorable.
(3) Great Size and Weight- the size- it's big enough for a fantastic imaginative play, but light enough to be brought around from one room to another.
The 4 year-old boy was a bit troubled at first by the "faceless" gnomes that can't sit" and don't seem to fit well onto the beds. But he soon forgot about all these so-called "imperfections", and busy acting out a story involving gnomes keeping themselves busy with spring cleaning and "recycling" (don't ask me why). I think it's fair to conclude that this house is well-loved by both adults and kids. Written and Reviewed by 6O Second Toy Reviews
Reviews by 60 Second Toy Review
Youtube: https://www.youtube.com/channel/UCzbHpf_GiN94O3pGgcNRh0w/about
Website: http://www.60secondstoyreview.com/search/label/Qtoys
Instagram: https://www.instagram.com/60_seconds_toyreview/