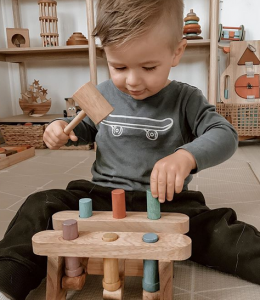 Stop, Hammer time!
nah🎶nah🎶nah🎶nah🎶
can't touch this!
Well, actually you can! 😂 Don't worry this isn't a 90's flashback of oversized parachute pants and terrible dance moves. Instead this is another incredible toy I've stumbled across from @qtoysaustralia #theyhavedoneitagain
This little man of mine is obsessed with copying his dad! He's always in dads shed stealing the hammers! #watchthetoesmate
So for us, this Pound-a-Peg game is perfect.
Darling boy was so excited about having his very own hammer to 'thwack' (anyone else's toddler just so rough at the moment? 😩) and those pegs stood up to the test and delighted after each pound of that hammer!
This game has fast become one of our favs. Mr Bam! Bam! (Seriously this should be his new nickname) was learning about the science behind 'up and down' and physics of 'push and pull' and you could see his brain so intrigued by it all. As he would hit one peg and another would jump up he would grab it and push it back down with his fingers (#itoldyoutostaytherepeg) before reverting back to more hammering fun.
This kind of explorative play – that allows the child to question as he goes -is brilliant for problem solving and analysis skills!
It also allowed us to talk about colours and worked on our language development. 'Boo!' He would say after each peg popped up and then laugh, clearly thinking they were playing peekaboo with him 👻.
I loved interacting with Arlo on this one, but honestly this gorgeous wooden gem of a game will be my go to when I'm desperate to do a load of washing or cook the dinner – bonus points because I'll be able to hear him hammering away and know he's not getting up to mischief!
Oh, and did I mention – because it's an open-ended toy it's always more than meets the eye!
This one is perfect for fine motor skills, hand-eye coordination, using in imaginary play (I'm thinking cash register or type writer and of course there's a whole Bob the Builder aspect!) and there's the one Arlo came up with himself – using it as a rocket launcher for his cars… there's not a plastic toy on the market that inspires creativity like that!
A gorgeous wooden game that incorporates a rainbow line up of pegs that pop up after each hit of the hammer. Sure to delight kids as they are in control of some serious banging fun and pop-up surprises.
Featuring pegs that are attached and a handy slot for the hammer once play time is over, ensuring there are no loose pieces to get lost (or have to pick up for the hundredth time that day).
A wonderful open-ended toy that fosters hand-eye coordination skills, fine motor practice, colour recognition and beginning science understandings about force and motion.